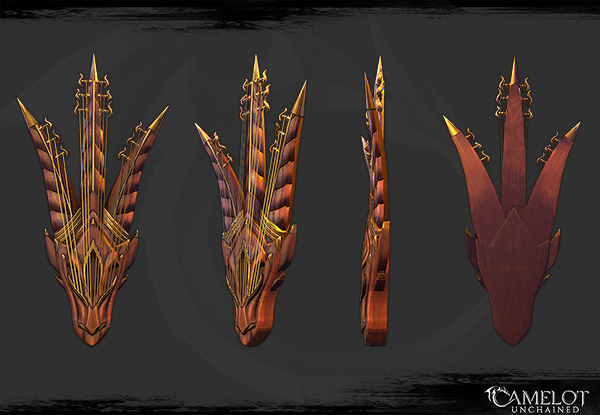 Support your local MMORPGer! – Friday, September 27th, 2019
Folks,
It's that time of the week again, you know the one–where we keep you, our beautiful Community, up-to-date on our work from the week! In a change of pace, I (Ash, with help from Max!) am reporting in from our rainy pacific northwest studio to give you all the week's highlights.
The first news is about the Minstrel! During our playtest this weekend (check out the details below), you have the opportunity to make this new character class and play with their abilities. Use your music to augment your allies and hamper your enemies! As for the Dark Fool and Skald, we expect the other support classes will be soon to follow, so stay tuned.
On the more tech-oriented front, we are finally in the last legs of our months-long Linux conversion work. This has been a long ongoing process in order for us to get all of our server infrastructure to build and run on Linux. This is absolutely critical for us, so we can have the best performance for you, our players and Backers.
Hey, don't forget to join our test this weekend, where we will be opening up the build to Beta 2 Backers!
When:
Sunday, September 29th, 2019
Countdown Timer HERE
Duration: 3 hours: 12pm – 3pm EDT / 9am – 12pm PDT / 6pm – 9pm CEST (Get localization)
Where:
NuadaPrep
Who:
IT / Alpha / Beta 1 / Beta 2
For those of you who missed MJ's Friday Live Stream, you can check it out HERE.
So, let's take a closer look at this week's highlights!
Top Tenish:
WIP – Tech – Game play: This week, Anthony added a few more Minstrel harmonies, including their panic abusers. Panic, as we discussed last week, is a stat that functions a lot like Stamina. Stamina locks at 0 for a bit when you're exhausted, and Panic will lock at your MaxPanic stat for a bit when it reaches that threshold. Several support components exploit enemies with a maxed-out panic resource, locking up movement or preventing certain kinds of abilities from being used.
WIP – Tech – Support classes: Christina has added the siege abilities to the support classes and Anthony worked on Banes and Boons for the Minstrel and the Dark Fool. While working on the new classes, Anthony has also had an opportunity to fix a few ability bugs.
WIP – Tech – Tools: Bull worked on pulling apart the animation builder and improving the tooling around it. This work will allow us to support animation changelists, and gives us the ability to easily roll back any bugged animations.
WIP – Animations – Dark Fool: Scott worked on the Dark Fool's animations this week. He has submitted the walk and run animations for review, along with the idle, attack, fidgets, flinch, and death.
WIP – Tech – Navmesh: Lee continued on his navmesh quest this week. He fixed problems with invalid polygons being generated for obstacles, and now we have a reliable way to split self-intersecting (complex) polygons. This was causing the navmesh to not label some vertices with the proper information, and causing some holes to appear. He has narrowed down (what he thinks is) the final major problem with generating the navmesh polygons, but doesn't quite have a way to fix it yet. Understanding the problem, though, as always is 90% of the battle, and we expect a fix fairly quickly.
WIP – Tech – Performance: Wylie investigated a performance issue seen when dealing with high numbers of NPCs. He found that our biggest performance hits come when several character controller capsules interpenetrate. He also identified the general area in the code which causes NPCs to interpenetrate much more frequently than we've seen in the past. The next step is to get this data to a more physics-brained engineer, so we can get this issue addressed and added to the game.
Tech – Installer: Tim has built a new installer for CU. As you might have seen in the email that was sent a few days ago, this will result in a faster download/install, and it will require *all* of our Backers to use the latest VC redist from Microsoft. If you need to download and install the latest VC redist from Microsoft, you can grab it here.
WIP – Tech – Tools: Rob has completed the first pass on the Terrain Multiselect feature for the editor. This will allow designers to select multiple points in the editor and manipulate them at once. Should greatly reduce the amount of mechanical actions required to edit a map, and greatly speed up the process. He also made some improvements to clicking on objects in the world editor. This should make it easier to deal with objects that are close or overlapping, to the joy of people using the editor.
Bug Fix – UI: AJ fixed an issue that was preventing players from changing their keybindings. This issue has been quite a pain, but now keybinding should be fixed.
WIP – Tech – Linuxification: Colin worked on fixing the remaining issues with servers running on Linux, including metrics for system-wide CPU and memory usage. These are the final steps in our cost-saving switch to Linux.
WIP – Tech – Chat Server: This week, JB worked on some critical updates to our chat server that we should have checked in by monday, and also began linux conversion of the server as well. Both of these flow in to our efforts to get server costs down and improve server reliability for players.
Art – Harmonic Axe: Andy completed work on the Viking Skald harmonic axe. This will be added to the game with the Skald Class, so look forward to that soon.
Art – Harpolyre: Sierra has completed work on the harpolyre. The harpolyre will be added to the game as soon as we finish the animations for it, which are being worked on presently.
For art this week, we have several awesome pieces for your perusal!
First up, a Dark Fool animation work in progress from Scott! Check it out: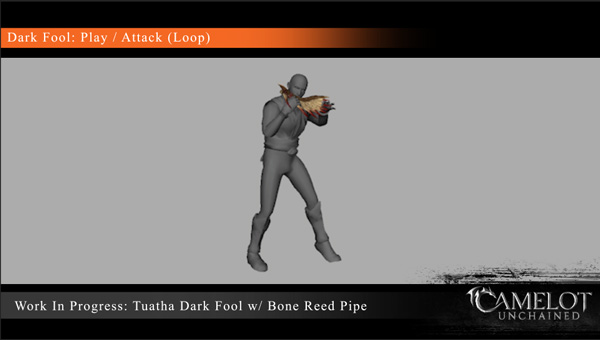 Next, a sculpt of the Skald's harmonic frost axe: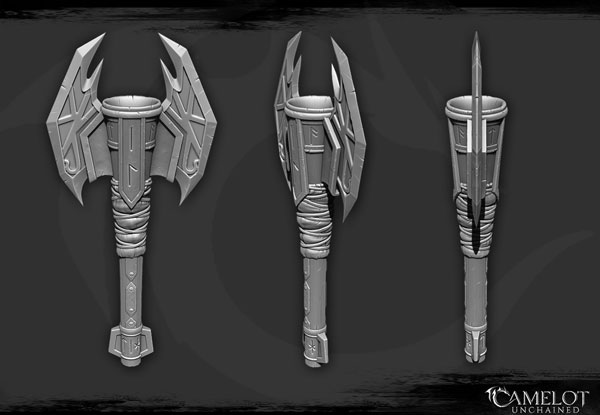 And here's the in-game version with textures applied, etc.: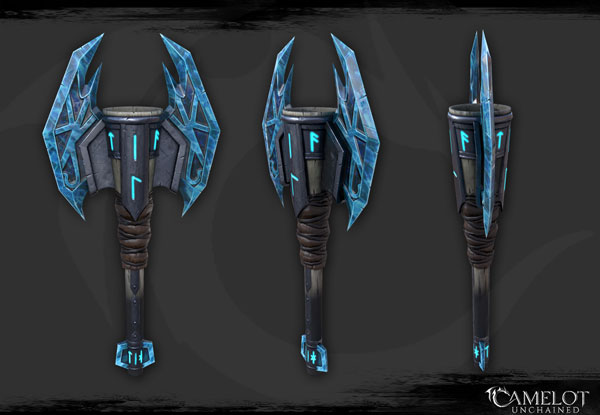 And now, moving to the other Realm's support class, the Arthurian Minstrel's Harpolyre!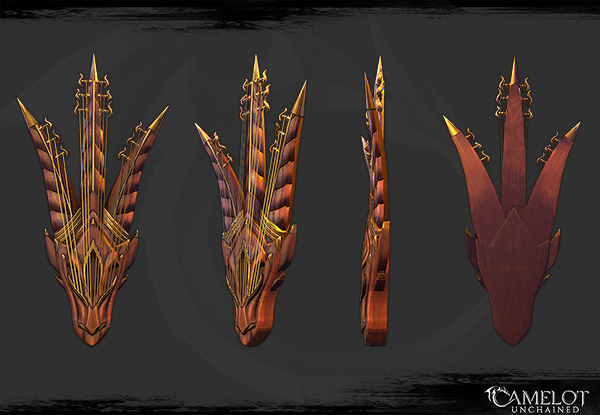 And that's about it for this week!
As always, we look forward to working hard next week and bringing CU to life, block by block. As we end this update, we just wanted to thank YOU, our Backers and Community – one of the very best in gaming, and definitely the best in MMOs – for your support and patience. It's our privilege to bring you along with us as we build a game we all love. So thank you so much for reading, being a supporter, and being awesome. YOU ROCK!!
– Ash