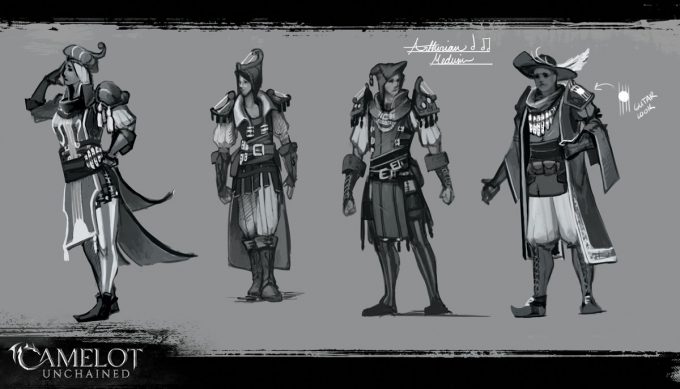 Spearheading The Next Effort – Friday, October 4th, 2019
Folks,
Things are moving along at a good pace this week as we continue to focus on the new support classes. Last weekend, we completed some initial testing of the Minstrel class, which really gave the Backers who helped us test some insight into how games are made (ie: placeholder FX, no animations yet, etc.). We are always thankful to our Backers who can support this process by helping us test and report back bugs for us to follow up on.
This week, as can be seen in the Top Tenish below, was primarily focused on the Dark Fool's abilities, giving us a whole new batch of abilities to audit! That doesn't even account for the Skald, which we also began working on! Like I usually say, we are ever-busy, working hard to make the great game we all want and can all enjoy!
We are not planning on a weekend test, as the Dark Fool is not quite ready for testing. However, this will be our focus next week, so stay tuned to the tentative testing schedule.
For those of you who missed today's Live Stream, you can check it out HERE. If you're particularly interested in the new support classes, Ben had lots of design questions during our Q&A.
Let's jump over to this week's highlights!
Top Tenish:
WIP – Gameplay – Dark Fool: The Dark Fool has been added to the patcher and will be open for testing starting next week. Using its songs and shouts, will the Dark Fool cause you to panic and run in fear, or will you be able to face the danger head-on?

WIP – Tech – Skald: Anthony completed work on the ability components, starter abilities, and traits for the Skald. We are currently in the process of attaching placeholder VFX and SFX. Once these are added, the Skald will also be available for testing.

WIP – Tech – Support classes: Anthony spent some time this week working on the major Support class archetype bugs, like songs persisting after death. He also added all the item defs for the support classes' instruments.

WIP – Tech – Tools: Rob worked on terrain editor performance this week. He improved the threading of the terrain editor so that dragging points around is more responsive. This should make it quicker to build terrain for the game.

WIP – Tech – Logging: Mark C. started work on rollover for our logging server, and cold storage specifically, for our chat logs. Rollover is the automated creation of new data indices once our current indices hit a certain parameter, such as lifetime, size, or document volume. Cold storage is a state that's optimized for high density and storage capacity, but has slow access times. This is perfect for documents that we need forever, but don't need to access frequently.

Tech – Tools – Servers: Mark C. Also landed the previously spoken of tool for automated shard configuration, startup, and teardown. Additionally, it can detect the existence of new servers and will update itself. This work is a stepping stone to a fully automated cloud layer to support a live game.

WIP – Tech – Linuxification: This week, Colin started getting our servers running in Docker containers on Linux. This will let us deploy our server applications without doing lots of pre-configuration on the servers!

 WIP – Tech – Navmesh: Lee had a major breakthrough with the navmesh creation this week, and was able to finally get all the problems fixed. Collinear points on the borders of polygons are annoying, 'nuff said. Now that the 3D navmesh is being created properly, he needs to get the actual pathfinding working with the new navmesh structure. He has already made significant inroads on this, and things are looking good so far!

WIP – CU Chatserver: JB and Tim are currently working to land the overhaul of the chat server. The new version will be able to handle permissions for rooms and all the stuff we need for a live game chat, like local chat, warband chat, order chat, campaign chat, and custom rooms, all with secure permissions/ownership and moderation.

WIP – Google: Mark met with Google this week, in a continued effort to find the best home for CU. Lots of chit-chatting, lots of impressed people. This was another item we needed checked off for release.

Art – Medium Armor Concept: After creating the first support archetype instrument models, we moved onto new medium armor, some of which fits perfectly on these new classes. We'll pick a few assets next week to begin modeling.

WIP – Art – VFX: Mike worked on fixing a few mismatched placeholder VFX on the minstrel. He's also investigating large-scale lightning strikes, which is helping us vet the particle editor's tech, and exposing any rendering issues.

Art – Animation: Scott worked on finishing up the basic needs of the Minstrel and Dark Fool animations, including re-targeting the Dark Fool's animations over to the Luchorpán Skeleton. He's finished setting these up for testing, and will work on the Skald next week.

WIP – Art – Concept NPCs: We've continued working on new concepts for various NPCs one might encounter in CU, including dragons, but not DRAGONS.
I'm excited about a couple of these items, as they are core needs for the game, like the chat server, and Mark's work with Google. And of course, I can't not be excited about the ongoing progress on the navmesh. As the NPCs get smarter, the game becomes more fun, especially when those guys work to chase you down, defend a point, etc!
For art  this week, we start off with the WIP (Work-In-Progress) animations for the Minstrel using his harpolyre. We'll hook up sound effects that try to match the tempo going here. As with the introduction of any new class, we start off with rough animations and mostly placeholder FX. As we nail down the abilities and get feedback from Backers, these assets slowly get more refinement.

Next up, we have, as mentioned in today's stream, new medium armor concepts inspired by the new support classes. Personally, I'm very excited to get some of these built, as the designs are really cool! The first image is for the TDD.

And these are for the Arthurians.

Next week, we'll have some more armor concepts to show off, as well as a couple of models from these concepts. Lastly, we have some unrelated concepts for spears.

And that wraps up another productive week! As I said, please keep an eye on the testing schedule next week for more support class goodness!
Have a great weekend all and we will CU next week.
– Tyler