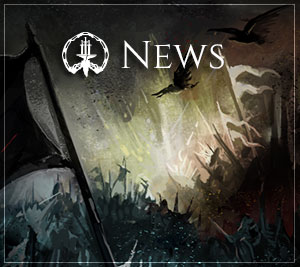 Press Release: Former Mythic Entertainment Founder announces $7.5 million financing round
FAIRFAX, Va., Jan. 18, 2018 /PRNewswire/ — City State Entertainment, LLC, developer of the Massively Multiplayer Online Roleplaying Game Camelot Unchained, announced today that it has secured a $7.5 million minority investment. This round is led by the original investors in Jacobs' last video game studio, Mythic Entertainment, Inc., which was sold to Electronic Arts in 2006. The investor group includes the principals of GF Capital Management & Advisors, LLC, a New York City-based private equity firm.
"Knowing that we have support from the same core investors who helped enable Mythic Entertainment to create Dark Age of Camelot is incredibly exciting," noted Mark Jacobs, CEO of City State Entertainment. "And when you add the benefits that the insight, experience and access that working with the senior leadership of GF Capital will bring to our company, the team is more enthusiastic than ever about delivering our games to an expanding global audience."
"We're creating a game and engine that allow truly massive numbers of people to all interact together in a shared space, changing their world in meaningful and dynamic ways," added Andrew Meggs, Chief Technical Officer. "The most exciting part is seeing what they'll do with that world."
"I couldn't be happier with what this investment means for Camelot Unchained, our company, and most importantly our crowdfunding Backers," said Mark Jacobs. "We can immediately accelerate hiring in our Virginia and Seattle Washington studios as well as our delivery of Camelot Unchained, as a way of thanking our Backers for their continued loyal support!"
For more information on City State Entertainment, please visit: http://www.citystateentertainment.com
For more information on the upcoming MMORPG Camelot Unchained, please visit: http://www.camelotunchained.com
About City State Entertainment
City State Entertainment was founded by videogaming industry veterans Mark Jacobs and Andrew Meggs. Jacobs was the co-founder and CEO of Mythic Entertainment Inc., one of the leading creators of online games in the early days of that medium. As lead designer, he helped bring out a wide range of online games, from MUDs to two of the most successful MMORPGs of all time, Dark Age of Camelot and Warhammer Online. Andrew Meggs worked as lead engineer on  Warhammer Online, and his credits include Senior Engineer on Bethesda Game Studios' wildly successful Elder Scrolls V: Skyrim.
CONTACT: Richard Aihoshi, press@citystateentertainment.com