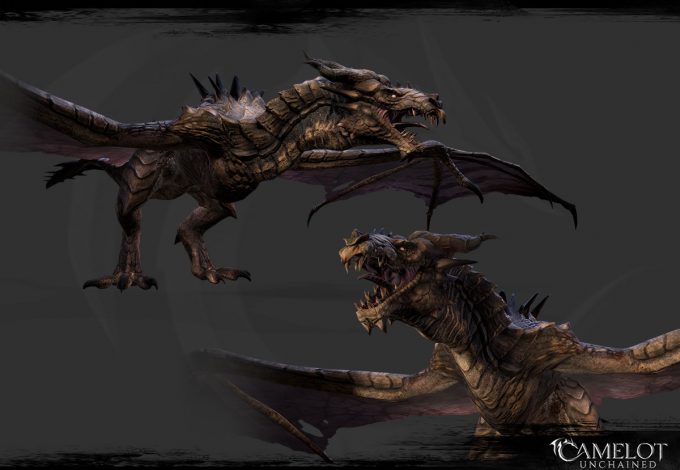 It May be Mini, but it's still Mighty Fine! – Friday, March 13th, 2020
Folks,
Hey there everybody before I talk about what's going on here with Camelot Unchained, let me say something about what is now happening in the world that we all share.
Right now the world is going through a difficult time which sadly will get even worse before it gets better, due to COVID-19, a.k.a. the Coronavirus. While it may have had its first known case in China, the fact is that it is now worldwide and it continues to spread. For so many of us it will sadly be a life-changing event, one that we will remember forever. Now is the time for those who govern throughout the world to forget their differences, their own ideologies, and what separates us to focus on doing what is necessary to reduce the tragic loss of human life that will happen during these coming months. It is my fervent hope that here in the U.S. and all over the world, that our politicians will see this as an opportunity to prove that they deserve the positions of power and influence that they hold. If we can do that here, there, and everywhere, the world will come through this and while it will be changed in many ways for the worse, we might learn from our past mistakes and prejudices to move forward to a better future. That said, speaking on behalf of everybody at City State Entertainment, we wish to best not only to our Backers and their family and friends, but to all the world's people. Stay safe, be smart and come through this alive and well.
In terms of today's mini-update, we have lots of good things to talk about, some art for show-and-tell, and lots of overall goodness to talk about. It's been a very productive two weeks for CSE and CU and I think everybody who is waiting so patiently (and even those who aren't so patient, we do understand) will like what you see. Please know that this is a mini-update, and we have even more things on our list. Let's start with some items from my two pages of stuff for CU.
Scenario Progress: first pass scripting of the CU scenario is in a good state as we move forward on building out the environment and feel of the map. The basis of keep lords, realm keeps and NPC behavior have been implemented and the full core scenario loop is really coming together. As part of this scenario, Overmind is already on the job doing its thing with CU. In the coming months Overmind will be getting even more CU-specific tech to make its importance to CU felt. For this scenario, we chose to go with a very different biome than any we have built to date, a coastal flatland. Here's some concept art from what the art team is working on.

As you can see, it is a very different look from what we've done to date. We want this scenario to truly feel like one of the islands that will be the majority of the Camelot Unchained map when it launches.

Progress on the Devout Classes: all of the non-resurrection Runes (the components that specify effects) are drafted and ready for testing. A majority of Shapes (components that specify delivery of Runes) are done, and we're working on the more unique and complex Shapes right now. Once those are done, we'll be over the hill on Devout abilities – what remains (Infusions, Foci, and something called Modals for the HelBound) are on the horizon. Then we can start testing all of these components for obvious bugs or flaws in the logic. Once the ability components are done, we will go back and take a pass at the class Traits (it may seem weird to do something for character creation last, but many of them modify how certain aspects of abilities work, so it's best to know how exactly those components are constructed). Here are some bits of concept art for the trio. First up, the staff of the Abbot here shown as some concept work.

And here's a couple of renders of the staff.

How about some HelBound staff concepts?

If we can complete this trio ahead of schedule, we will begin work on the next CU trio. Right now, we are looking at pulling in the Spirit Mages from their status as an Extender Pack update to one you get for the launch of the game. No promises, but it's first on my list.

Channeling Tech: the basis of this tech has been made but we need to put it to the test against abilities in-game. That is the next step for this tech! We have implemented them against Song abilities and hope that in future playtests we can gather more feedback on the user experience and any potential bugs in that space.
Ability Bar Customization Progress: Able to have multiple ability bars and move them into groups. Abilities can be added and removed from the ability book and placed on to the ability bar.
Warband overhaul: Getting warbands into a fully functioning state with safeguards against future regressions on the system. Should be faster, more reliable, and provide an easy way to update in the future.
Wyvern – With model and materials finished it is currently in the rigging stage, and from there can move into animation. Here's how this big ole' critter has evolved:
Environment – Improved Shader Tech – New tech is being implemented for height based blending in the terrain. It might not sound like much, but as Ben and the art team use this new tech, it will have a major visual impact on the look of CU.
Environment – Terrain – Improvements to terrain are in the works. Currently work is moving forward on foundations of the land. This includes efforts improving the material visuals of sand, dirt, grass, stone, and application with our terrain mod system.
As you can see we are focusing on things that we know are important to you and in some cases, have been identified as high-priority items by our Backers such as warbands and the ability to customize our UI bar. Very different things of course, but things that you folks have been asking for from us for quite a while. Other than that, we've had the Preview Build of the new island scenario for Camelot Unchained up and running all day on Nuada and before that on Nuada Prep. We'll open it up next week as well for you folks to look and as soon as the art and new tech goes in, we'll start using that space for live testing. It will also be the first scenario that we will test with a Linux build as it is our intent to have that map, as well as the home islands, to be part of the 24×3 CU server we want to start running before the end of the 90-day plan.
That about wraps it up for today's mini-update. As we get the Devout fully implemented, expect us to resume almost-daily weekday testing of CU and weekend testing will resume as well. As you can see from the progress so far, especially if you have joined us on Nuada or Nuada Prep this week, it won't be much longer till you're in that server.
Again, and as always, we thank you for your patience and support, as I hope you can see, we're doing everything we can to continue to earn it.
Mark