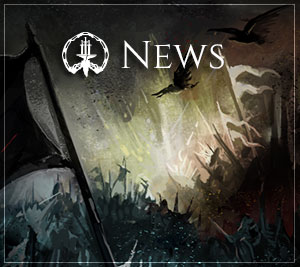 CSE Received Major Cash Injection And It Didn't Hurt One Bit! – Friday, January 19, 2018
Folks,
Oh, what a week! Middle of January, now in 218. What a very special time for us. As we remember, what a week… 🙂 Having now gone out of my lane a little with a music reference instead of a film one, time for a quick recap of everything that happened in a little over a week:
We signed a deal to bring in $7.5M in investment to the studio.
I livestreamed over 4 hours in the last two days talking to our Backers about the deal.
We gave our recruiters additional resources to use in bringing more people to the studio (target 40 total people).
I got to truly smile and take a lot of deep breaths for the first time in many, many months, as the vast majority of our Backers realized and supported how much this investment meant and will mean to them personally over the next two years as we target 2019 for a launch year!
With that announcement, CSE and Camelot Unchained's profile was raised (which Backers have been urging us to do for a long time), as we have gotten stories and pickup on these sites (in total 241 news/information/gaming sites have picked up our announcement) in alphabetical order, so nobody is offended with their placement:
http://www.eurogamer.net/articles/2018-01-19-why-the-people-behind-crowdfunded-camelot-unchained-wont-sell-spaceships-or-castles
https://www.gamasutra.com/view/news/313138/Mythic_founders_new_MMO_game_studio_nets_75M_in_funding.php
http://www.gamesindustry.biz/articles/2018-01-18-city-state-entertainment-lands-USD7-5m-from-mythic-investors
https://www.keenandgraev.com/2018/01/18/confirmed-no-new-mmorpgs-2018
http://massivelyop.com/2018/01/18/camelot-unchained-investment-mark-jacobs-interview-vr-beta-one/
https://www.mmorpg.com/camelot-unchained/interviews/exclusive-mark-jacobs-on-the-road-ahead-for-camelot-unchained-1000012413
https://venturebeat.com/2018/01/18/camelot-unchained-isnt-in-the-dark-ages-anymore-after-raising-7-5-million/
So thanks to all the great writers, journalists, and sites that took the time to talk to and write stories about us. It is much appreciated!
Ever since our re-abilitation began, we've felt like a bit like Sisyphus and his rock. Over the last few months though, even before the deal was signed, the top of the hill has looked ever closer with the upcoming Saturday Night Sieges and Beta 1. With this deal, not only are we confident about being able to get that rock over the top of the mountain, but doing so in style and even faster. That's how I feel today, and I hope our Backers feel the same way. Now is certainly not the winter of our discontent; but rather, the winter of hope.
Top Tenish:
BizDev – CSE Lands $7.5M To Accelerate Development: For the last six months, Mark has been working on an investment deal for our studio. The deal closed late last week, and as a result we are now on an accelerated hiring program. Our main goal is to be able to speed up development, have an even more enjoyable Beta than originally planned, and reward our Backers' long-time faith and support. The livestreams where Mark talked about this can be found here, here, and here, and the information on our website can be found here.
Tech – Engine Gameplay Systems Improvements: George, alongside several members of the team, have landed the large commit that rewrites the game loop and input logic to facilitate a lot of current and future improvements. (See last week's update.) Now that this work has landed, we continue to test and verify that there are no new issues or regressions, as well as finishing the keybinding input integration.
Tech – Generic Editor: Bull has wrapped up the work integrating the editor functions into a unified tool. This improved editor support will allow for more gameplay to be generated through the entity components that Caleb has been working on, and will reduce the amount of work to create editors from scratch.
Tech – New Entity Types: Caleb has finished the first pass of new spawn point entities, and can now use this as part of the gameplay scenario system. This will open us up to build gameplay around locations and events, like capture points, which we've begun testing in the next scenario zone. NPC guards successfully spawned upon point capture, guarded their area, and moved to the next capture point.
Tech – Unifying TCP and UDP Entity Networking Systems: Colin's work has been put up for review. Assuming it all looks good, this should be in soon. This work began with a nasty bug but has allowed us to also simplify the code, making future changes much easier.
Tech – 3D UI and Input Performance improvements: Dave's updates are now largely complete, and integrate with the gameplay systems and combat log. Dave has added some changes to 3D UI, and has cleaned up some locking issues as well. This work will be very meaningful in providing good combat readability during testing. This is still very much a work-in-progress in terms of styling and art.
WIP – Tech – Web socket server and implementing GraphQL: JB has been working on GraphQL over web sockets with subscription support. This will enable real-time updates of data to be pushed from the API server to our UI utilizing the same GraphQL formats that we've had available over HTTP.
WIP – Tech – Standalone NPC Server: Colin has begun work on a discreet NPC Server. This work will make it easier for us to diagnose performance issues related to NPCs. In the long term, having a stand alone NPC Server lets us offload the AI to a separate server for scalability, increasing overall performance.
Tech+Art – Patcher: James and AJ have been iterating on transitions and animations to play when hovering/clicking/moving mouse in the new patcher interface. This process allowed AJ to clean up a lot of old patcher code, adding stability and performance.
Art – New Weapons: Jon completed the materials and LODs on all his new weapons this week, which are now off to Ben to set up and get into player inventories.
WIP – Art – Character Creation Renders: Sandra created a plethora of male and female class pose sketches this week. We chose the strongest of those that best identify with our nine classes for the start of Beta 1. She has begun posing the rigs for handoff to Jon next week to create the renders. These will replace our very old renders and concept art in the patcher.
WIP – Art – Patcher and Scenario UI: Michelle has finished up her work for the Scenario UI elements, which are now in James' hands to animate. She is now back on some unfinished patcher background art used in character creation.
WIP – Art – Character Assets in Maya: Our new animator had a good opening in standups: "Scott and I have birthed a baby this week!" No, we haven't hired a doula instead of an animator. Scott and Joe have been moving all our assets into Maya to make use of some better animation tools and move us more to Maya instead of splitting between that and Max, which required more upkeep. The "baby" was the human male skeleton with a full character mesh, and animations successfully imported into the game from Maya. The began working through the female rig today.
WIP – Art – New Weapons and Armor:  Now that Ben's ability XML refactor is in, he's catching up on some of the art assets that were recently created. Once complete, we'll update player inventories. These items include:

Archer chest armor now includes a Realm-specific quiver. This is purely a cosmetic change for now, that will later be replaced with an equippable quiver item in players' inventory and paper doll.
Jon's new weapons he's created over the last two weeks.
Focus items, which will pair up with Scott's first pass casting animations shown last week HERE.

WIP – Beta 1 Planning: As mentioned in our livestream updates yesterday, with a new Producer on board our next big goal is a solid, realistic Beta 1 date. Much work is going into this: re-organizing, auditing, and re-planning.
A very solid week for us here, as we continue to knock items off our to-do list!
For art this week, we start off with some images of new weapons from Jon, showing the in-game geo, high poly, and material passes.
We'll have even more weapon images next week! Look for these in player inventories soon, during our next test!
Next, we have a material breakdown of new terrain assets for the next scenario map. These are pulled from real-world scans and mixed into a terrain texture. Dionne is currently putting together the supporting mods to fill out the environment. We'll have new shots once we get a bit farther along on the map!

We've got some new slick UI art for the scenarios. These pieces are the first pass of elements for the victory and defeat screens from Michelle and James. Next James will begin working on animations for these with some purty VFX!

Additionally this week, Michelle and James quickly created our front page "Victory" splash screen for the website.

That wraps up the art for this week. Props to our artists for not only great-looking pieces, but also for the effort to create them.
It was a very big week for us, ending on a high note. Lots of work still to do, and we're the right group of guys and gals to get it done!CU next week!
– Mark
P.S. For an additional quick laugh this week, head over to MassivelyOPs coverage of Town State Liesure!