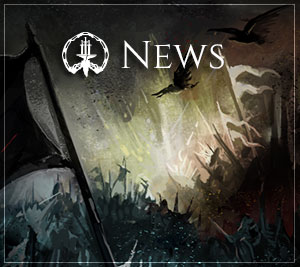 A productive week
Folks,
It's Friday which means it's time to update you, our wonderful Backers, on this week's progress. We're already moving along on new priorities now that we've hit the start of Beta 1. Those priorities include delicious tidbits like improved lighting and targeting to building damage, a 64bit client, and coherent integration to support UI improvements! We've still got a lot of work ahead of us and we're wasting no time!
If you missed today's livestream with Ben, myself (Tyler), and Tim, you can catch that HERE. We had a lot of great design questions which you can check out in the latter half of the stream.
We also continued some testing this week with players jumping on to try out crafting, building, and combat in our scenarios. We do not have a test scheduled for this weekend, but keep an eye on our tentative testing schedule for next week's testing plans.
Let's move on to this week's Top Tenish where we cover the week's highlights.
Multi-server testing: This week we have been doing several interesting tests as you all have seen. One of the things we have been working on is testing our configuration against multiple and different servers. Hopefully you have had a chance to jump in to our Hawking test, where players tested crafting, building, and combat! We also quietly tested 1200 bots running around in a small field with players, earlier today which went well!
WIP – Tech – Building damage: Andrew has been heads down working on building destructibility. This first part is to get us back to being able to damage blocks in a manner that will support the large battles we are focused on.
WIP – Tech – Targeting: One of the first improvements to combat you will see in the near future is some improvements to targeting and target readability. We are working to improve our tab targeting heuristics, as well as the visibility of our target icon readability.
Art – Animation:  Our animators have been working on some new death animations with a bit more, shall we say, color, that occur less often. Look out for those as they are certainly entertaining.
Art – Animation: Over the last two weeks the animators have been adding more life to our characters by creating several fidgets for combat and travel stances. We've even got some race specific ones already in game!
Tech – Database Updates: It may not be the flashiest work, but now that we are in beta 1, one of the items of tech debt we get to address is our DB updates and worldstate DB which have been a pain point for some time. These updates will make it a lot easier for us to add more content and get that content faster.
Art – Stats UI: Its a smaller update, but one that should make the stats page much more readable once it is implemented, taking us closer to a cohesive UI experience.
Tech – Proxy Swapping: This is a great technology that you will hopefully never notice going on behind the scenes! Colin has implemented the capacity for us to seamlessly move players in and out of proxies as we load balance or in the case of failure, so that you guys simply have a seamless experience.
Tech – Area Lights:  Dave and George have been working on updates to the lighting system to give us better lighting by changing our point lights to area lights. This will also include more controls for the artists to create more lighting variation.
Tech – Shadows: George has done some work to improve how dark it was getting for players in shadowed areas. While we do want to have dark areas in some of our forests, they were just a little too dark.
Art – Combat Music: dB has gotten in some epic new combat music that is a bit smarter and should make combat feel more exhilarating and engaging. Turn on the sound and check it out!
Tech – Admin Commands: You may have noticed the new Admin Icon above the heads of CSE staff. Rob has been working on improving our admin commands in game for game mastering and debugging traits.
Tech – Battlegroups Chat:  A host of small issues in battle groups were addressed, and we hope it will be a better experience once fully submitted.
Art – Environment Art: Tyler and Dionne spent much of this week filling out the home islands with more wilderness or buildings built by our Builder's Brigade. These changes will be visible in later testing.
WIP – Art – UI and Style Guide: James has been working ahead of JB and AJ on the game's UI styling. The guide he is working on now will help keep the game's styling consistent moving forward as new UI elements are created.
I'm personally excited by those area lights. Dave was showing us a comparison of our current point lights to area lights and it was night and day. Jon and Michelle were very happy as well!
Moving along, we've got a bit of of a backlog of art, some of which our Backers may have already seen implemented in game already! Let's start off with some work from Jon of three heavy armored models, one for each realm. I'd personally requested these for statues on our home islands that we can use standing or inset into walls. Once we free up some more memory with the move to 64bit I'll add these in.

I'm planning on using this stag sculpture in the future as well for a nice TDD accent built into a rock wall.

Michelle created concept art for tavern and bank signs which Dionne and Jon modeled and textures. Here's our TDD signs.

Next up, here's some work in progress sketches for splash screens showcasing Saturday Night Sieges.

Lastly, we have the final piece of art that we added to the patcher at the start of Beta 1. This was later animated by James.

All this art is a great segue into some more art, created by our very own Max and his wife Kate who, this week, welcomed their first baby, Rose into the world!

That little girl has so many board games to catch up on and I know a great dad to help her on that journey! Congratulations to team Rose from all of us at CSE!
That wraps up an eventful week for us here at CSE. We'll be back to work Monday morning and we hope you can join us during the week for more testing!
-t